We've all heard that phrase…
'You're so Naturally Talented!'
To be completely honest with you, I HATE that saying! To me, it diminishes the value of hard work we are all putting in!
As Gym Rats we LOVE to work. The harder we work, the better results we get.
All of this isn't to say there's not 'Natural Talent' anywhere in the body building world. You can be born with a body composition that is 'better' of body building. But in my opinion, Hard work goes MUCH further than Natural Talent.
HOWEVER, when it comes to our SUPPs, that is a different story!
There is one area of SUPPs in particular that have Mother Nature's 'X Factor'. They are made up of natural ingredients, pack a HUGE punch, and don't even require any form of On/Post Cycle supplementation. You've guessed it… I'm talking about Natural Anabolics!
Natural Anabolics are taken from herbal extracts that have been dissected and studied to naturally stimulate the hormone environment. With this added boost, our bodies create a more significant amount of organic muscle growth and even recover faster! The key takeaway? They are made up of naturally sourced products and do not require on or post-cycle supplementation. That is the main benefit here. You get the same awesome results without having to think about protecting your organs or even stretch your wallet any further.
Don't look any further. Here are 4 of the top Natural Anabolics around!... and don't worry, I saved the best for last 😉
First on my list of my favorite Natural Anabolics, I've returned to the team at Vital Alchemy for their product EPI 2.0. This awesome SUPP is designed to help push the body past its muscle building plateaus. Epi 2.0 is specifically able to do this by reducing the growth factor protein that limits your muscle growth with its key ingredient, Epicatechin. Additionally, Epi 2.0 utilizes a blend of ingredients that helps to triple the effectiveness of Epicatechin. These advances not only allowed Vital Alchemy to increase the ingredients potency, it also allowed them to almost double the amount of time it stays active in your body to promote maximum muscle growth! And if a 3X increase in potency wasn't enough, they took that ingredient and increased its value with a larger dose that is up to 225% more product than competing products. The end result is Epi 2.0, a new product that allows you to cheat your genetics!
Up Next is the secret weapon of Natural Anabolics, Nano Genin by Assault Nano Series. Nano Genin combines the non-hormonal anabolic agent, Laxogenin, which has been shown to increase protein synthesis by 200%, with a technology used by the pharmaceutical industry known as "Nano Absorb Technology," which helps to increase the effectiveness of Laxogenin by up to 600%. Needless to say, the results are unanimously epic, and you will see increases in fat loss, lean muscle mass, endurance, and strength. Nano Genin can be to be up to 6 times more effective than the most powerful supplements on the market! One thing I really love about this Natural Anabolic is that its active ingredients help increase your nitrogen retention ("the pump") and protein synthesis, just like how prohormones do!
Next up is Youth GH By Vital Alchemy Supplements! This is a perfect example of a Natural Anabolic that goes the extra mile. Combining 11 effectively doesd ingredients you will see growth in hormone production to enable lean muscle building, fat loss, and enhanced muscle recovery. Additionally, with ingredients like Rikkunshito (a natural Japanese herb), Valerian Root Extract, and L-Theanine, you will experience improvements in your sleep quality, mood, and even your appetite. Youth GH is an industry leader of Natural Anabolic and is well worth your time!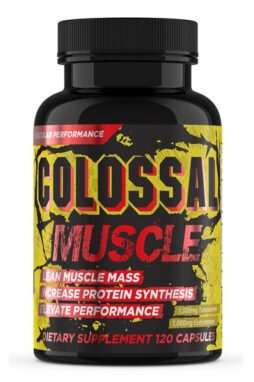 And finally, we come to the NA that everyone is talking about. That's right Gym Rats, Hard Rock Supplements has done it again. Colossal muscle is an incredible NA, giving us a natural way to add muscle and gain strength. But what makes this NA so much harder hitting than others is their staggering new ingredients that have undergone an epic 10-week trial to make sure this formula gives us the Colossal gains we want! With the addition of 20-Hydroxyecdysone and Uzbekistan Ajuga Turkestanica this NA has some much more punch than any of its competitors. Colossal Muscle is taking SUPPs to new levels of awesome… So, make sure you add this Natural Anabolic to your arsenal!
So yea, some may have a natural talent when it comes to physiology, but the other 99.99% of us are up to speed and know NAs can be an asset.
The four products I listed above are my (and the team here at Strong Supplements) go-to products for Natural Anabolics. Again, Colossal Muscle is definitely worth taking a look at!
Do yourself a favor and boost your "Natural Talent" today!