...Keeps the Doctor away?!
That is a bold claim.
I think that we might have been hustled into believing that one. BUT listen up Gym Rats. The sentiment is real! We must take the best care of ourselves to avoid breaking down. So, this week, let me take you through the world of Multi-Vitamins!
As Body Builders, we take some of the best care of our bodies! No one can compete with us when it comes to 'Looking after ourselves. There are so many ways we can keep our bodies running in tip-top shape, but sadly, when it comes to Vitamins, we tend not to talk or think about it nearly enough.
We already SUPP. We already have a regime of pills, powders, and drinks we take every day. So we need something that does everything in one go. The best (and easiest) way to add even more supplements into our already packed routine is to take multi-vitamins. Great multi-vitamins are the perfect way to make sure our bodies can avoid the dreaded doctors for as long as possible. Now, remember, multi-vitamins are not in exchange for anything else. Just because I make sure, my immune system is working the best it can doesn't mean I can ignore common sense. We are just taking general wellness supplements to give ourselves another layer of support and to keep ourselves feeling great!
So here are the Gold, Silver, and Bronze medal holders of wellness SUPPs to help you stay in tip-top condition.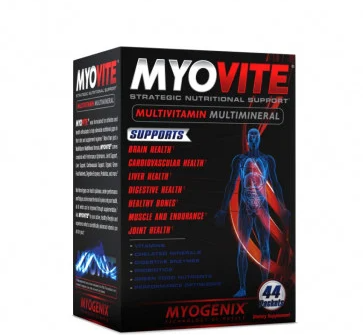 Firstly, we have MYOVITE by Myogenix. This multi-vitamin has been specifically formulated for athletes and health enthusiasts to help eliminate nutritional gaps in our diet and supplement regimen. It does exactly what we want. One of my favorite benefits of MYOVITE is that it helps enhance performance, joint support, liver support, cardiovascular support, and even our probiotics. This one-stop multi-vitamin is the perfect way for us to enhance our all-around wellness.
Next, we have Sambucus Elderberry Gummies by Nutriumph. Don't let the cute name fool you, they are packed full of antioxidants that help slow down the effects of oxidization in the body. All while giving us the essential vitamins and minerals to help bridge the gaps in our diet. The gummies are a 3-in-1 blend of black Elderberries, Zinc, and Vitamin C that works together to help strengthen your body's natural defenses and support your immunity. These 'wonder gummies' are receiving rave reviews and I can tell you they taste great as well.
Finally, on our stacked list of multi-vitamins, we come to Musclevite by High-Tech Pharmaceuticals. This complete and Hi-Potency/Performance Multivitamin is a fantastic vitamin and mineral supplement. It was created with higher doses of key vitamins and minerals, as well as Sports Nutraceuticals (L-Carnitine and Beta Alanine). The blend of nutrients is different from other multivitamins/mineral supplements and is specifically formulated for athletes and active adults. I wanted to finish up my top five list with Musclevite as it is definitely the heavy hitter of the multi-vitamin world!
You cannot go wrong with any of these vitamin and mineral supplements. They are all tried and tested and give our bodies the extra layer of support us Gym Rats need to sustain our intense lifestyles.
This is a topic not talked about enough in our community and it is so important. So, make sure to start/adjust your multi-vitamin game, and you will feel the benefits in every aspect of your life.
Get after it, and remember, a Multi-Vitamin a day keeps the Doctor away… within reason! Ha!