TOP 10 CUTTING SUPPLEMENTS FOR 2023
PRESENTING TO YOU THE BEST OF THE BEST!
Prepare for a game-changing journey of torching fat and building rock-solid, lean muscle mass! The moment you've been waiting for is here! After rigorous analysis of feedback and votes, we present the ultimate guide to the best cutting supplements for 2023. Without hesitation, we proudly introduce the top 10 powerhouse supplements that will help you achieve a sculpted, shredded, and chiseled physique like never before!
How do we determine the Top 10?
First up, we looked at repeat sales. These supplements have won the hearts and muscle fibers of users who keep coming back for more, month after month. When customers vote with their wallets, you know it's a powerful endorsement.
Next, we delved into customer feedback, reading reviews and chatting with users to get an insider's perspective. Their rave reviews and positive feedback are a testament to the effectiveness of these products.
And finally, we looked to the pros – bodybuilders, athletes, and fitness models who have put these supplements to the test and documented their results. Our own Pro Support Team has also weighed in, sharing their own experience and expertise.
So, what are you waiting for? Check out the reviews on our site and see for yourself why these top 10 bulking supplements are taking the fitness world by storm!
NO. 1 True Shred by Hard Rock Supplements
True Shred made history as the first-ever hybrid cutting agent in 2018, making a massive impact with its natural anabolic stack, 7-keto, and an aromatase inhibitor (no prohormones included). This supplement helps users build a lean, hard, and chiseled physique, and has been proven to be effective based on customer results, positive reviews, and multiple repurchases. True Shred takes the top spot as the #1 cutting agent due to its unique 5-in-1 formula, which requires no on-cycle or post-cycle therapy like other supplements. It is the perfect choice for those looking to run a low-cost and less taxing cutting cycle.
NO. 2 Androvar by Hard Rock Supplements
Androvar has secured the #2 spot this year, thanks to its ability to deliver the holy grail of fitness – fat loss and the development of hard, lean muscle mass. With one bottle providing up to an 8-week supply (180 capsules), the supplement offers excellent value for money. Customers have responded positively to Androvar, with many providing effusive feedback and repurchasing, making it an increasingly popular supplement to achieve cutting goals.
NO. 3 Anabolic Trinity by Hard Rock Supplements
Ranking at the #3 spot this year, Anabolic Trinity is a powerful supplement that combines three potent anabolic agents to help users build lean mass, strength, and improve muscle definition. Designed by Hard Rock Supplements, this supplement is intended to be the next level beyond Androvar and is strictly meant for advanced users due to its potency. Feedback from users has been overwhelmingly positive, with results living up to customers' expectations.
NO. 4 Ultimate R-Andro by Hard Rock Supplements
Ultimate R-Andro Shred has become a customer favorite due to its remarkable results. Users have reported improvements in lean muscle mass, muscle fullness, vascularity, water loss, and fat loss. These effects are attributable to the supplement's unique ingredients, which utilize a double stack of cutting agents exclusive to Ultimate R-Andro Shred. The supplement has also received overall positive feedback and steady re-purchases from satisfied customers.
NO. 5 ALPHABUILD by Olympus Labs
AlphaBuild takes the prestigious 5th spot in the lineup, marking the highly-anticipated second installment of the ALPHA series by Premium Olympus Labs. This cutting-edge supplement is meticulously crafted to break through the body's limitations in signaling molecules, unlocking the true potential for muscle growth. As a remarkable feat, it also intensifies the body's fat-burning capabilities simultaneously. Olympus Labs proudly presents an industry-first scientific breakthrough, featuring a generous dosage of 600mg of the renowned anchor ingredient (-)-Epicatechin PhytoFUSETM, complemented by its lesser-known yet potent sibling, (+)-Epicatechin. Brace yourself for a revolutionary experience that truly embodies the saying "Build muscle and burn fat simultaneously!
NO. 6 Epi 2.0 by Vital Alchemy Supplements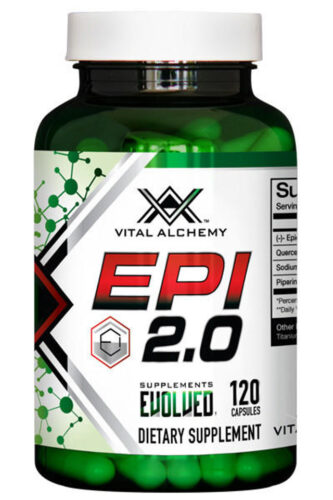 Epi 2.0 has secured the #6 spot as the top-rated natural cutting agent. It is a suitable supplement for users who wish to avoid the potential side effects associated with other options, while still achieving significant gains. It's worth noting that Epi 2.0 reaches its peak effectiveness during weeks 5 and 6, so users may wish to prepare by purchasing two bottles in succession. Epi 2.0 is the preferred choice for individuals looking to maintain hormone balance while sculpting their physique.
NO. 7 The Muscle Sculptor by Vital Alchemy Supplements
Ranking at #7 for cutting agents and #2 for fat burners, The Muscle Sculptor is a well-rounded supplement that serves as both a fat burner and fully-dosed natural anabolic. Users have reported experiencing hardened muscle mass and a reduction in body fat, as well as an increase in energy, muscle, and metabolism. It's no wonder that this supplement has made it to the top of many users' lists.
NO. 8 Nano Genin by Assault Nano Series
Compared to other Laxogenin products in capsule form, Nano Genin has been shown to be up to 600% more efficient. Its technology involves breaking down the compound into nano-sized particles, allowing for faster and longer-lasting absorption in the body. Customers have responded positively to the product, with forum users reporting significant muscle gains and fat loss.
NO. 9 Terminate By Hard Rock Supplements
Terminate revolves around its dual roles as an estrogen blocker and a testosterone booster. Those who have incorporated this supplement into their regimen have reported noteworthy outcomes, showcasing a sculpted and well-defined physique characterized by robust, lean muscle gains. The effects of Terminate extend beyond its surface promises, with user reviews serving as compelling testament to its multifaceted benefits and effectiveness.
Stano-Plex, developed by CEL, renowned for enhancing muscle firmness and promoting greater vascularity. This supplement proves invaluable for those seeking to transform their physique through recomposition. Experience heightened strength, diminished water retention, and effective fat reduction with this exceptional cutting supplement.
ALPHARIP is the newest cutting agent on the block and is already getting great feedback! Watch for 2024 Top Cutting cuz we will definitely see this impactful formula in the Top 10!