IT. IS. HERE.
This is the sale we have been waiting for gym rats.
Strong Black Friday Sale!
Strong has a semi-annual sale each year, but sometimes you will not find some of the most popular supps on there as they have to keep inventory for customers.
But for this ONE sale, they have added some of the heavy hitters that our reviews and sales reflect are fan favorites.
I have used some of these awesome supps and thought I would highlight a few that I am SUPER stoked to see on this sale!
COUPON CODE: STRONGDAY
Simply put, first up we have the most hard-hitting cutting SUPP I have EVER used! I used to compete… and this was my JAM. I'll be honest, if you're a beginner to cutting SUPPs you should avoid this one… For now, but due to its potency, it is strictly intended to be used by advanced users. Anabolic Trinity combines 3 potent anabolic agents for building lean mass, and strength and improving muscle definition. Hard Rock Supplements designed this supplement to be the next level in cutting SUPPs. Feedback has been very positive on Anabolic Trinity, with results that speak for themselves. To see this on the Black Friday Sale is unreal. Ha!
Up Next is the secret weapon of Natural Anabolics, Nano Genin by Assault Nano Series. Nano Genin combines the non-hormonal anabolic agent, Laxogenin, which has been shown to increase protein synthesis by 200%, with a technology used by the pharmaceutical industry known as "Nano Absorb Technology," which helps to increase the effectiveness of Laxogenin by up to 600%. Needless to say, the results are unanimously epic, and you will see increases in fat loss, lean muscle mass, endurance, and strength. Nano Genin can be to be up to 6 times more effective than the most powerful supplements on the market! One thing I really love about this Natural Anabolic is that its active ingredients help increase your nitrogen retention ("the pump") and protein synthesis, just like how prohormones do!
Next up is DAA Max! DAA Max is a leading testosterone supplement – citing the use of D-Aspartic Acid as one of the main driving forces for success behind the product.  DAA Max works by increasing the production of the luteinizing hormone which, in men, stimulates the production of testosterone. This in turn increases the amount of testosterone released into the blood and gives you the boost your body needs to break down barriers and achieve real success. Meanwhile, an increase in nitric acid which is also stimulated by DAA Max promotes faster recovery after every workout – leaving you ready to go again and again… During a 90-day study, D-Aspartic Acid was also reported to make men MORE fertile – providing a new lease of life in EVERY way. In another study it boosted free T by up to 42% of 12 days of consistent use. That is UNREAL! This product is never on sale, at least not since I have been a part of the Strong team. So Try it out!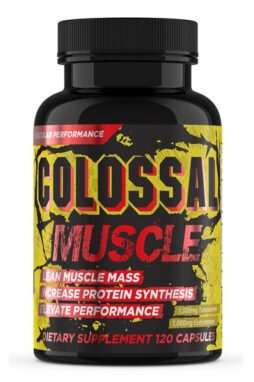 And finally, we come to the NA that everyone is talking about. That's right Gym Rats, Hard Rock Supplements has done it again. Colossal muscle is an incredible NA, giving us a natural way to add muscle and gain strength. But what makes this NA so much harder hitting than others is their staggering new ingredients that have undergone an epic 10-week trial to make sure this formula gives us the Colossal gains we want! With the addition of 20-Hydroxyecdysone and Uzbekistan Ajuga Turkestanica this NA has some much more punch than any of its competitors. Colossal Muscle is taking SUPPs to new levels of awesome… So, make sure you add this Natural Anabolic to your arsenal!
There are so many other supps to join this sale that you won't typically see at a discount from brands like Blackstone Labs, Hi-Tech Pharmaceuticals, Psycho Pharma, SNS and more! So be smart, be fiscal (lol), and click over to shop the sale.
IT IS THE LAST DAY OF EARLY ACCESS FOR EMAIL SUBSCRIBERS!