TOP 10 PRE WORKOUT SUPPLEMENTS FOR 2023
THE MOMENT YOU HAVE BEEN WAITING FOR...
Get set for unparalleled concentration, boundless energy, and unwavering endurance! The crème de la crème of pre-workouts for 2023 has arrived. Carefully curated from meticulous analysis of customer feedback and votes, we now present to you the definitive list of the absolute best pre-workouts available. We proudly unveil the Top 10 pre-workout powerhouses for 2023, primed to propel you towards an epic gym session like never before!
How do we determine the Top 10?
First up, we looked at repeat sales. These supplements have won the hearts and muscle fibers of users who keep coming back for more, month after month. When customers vote with their wallets, you know it's a powerful endorsement.
Next, we delved into customer feedback, reading reviews and chatting with users to get an insider's perspective. Their rave reviews and positive feedback are a testament to the effectiveness of these products.
And finally, we looked to the pros – bodybuilders, athletes, and fitness models who have put these supplements to the test and documented their results. Our own Pro Support Team has also weighed in, sharing their own experience and expertise.
So, what are you waiting for? Check out the reviews on our site and see for yourself why these top 10 bulking supplements are taking the fitness world by storm!
NO. 1 Wild Thing by Assault Labs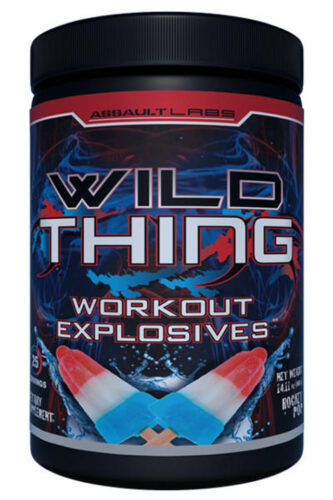 Wild Thing dominated by being the #1 spot for the third year in a row and it pushes to be above and beyond any other pre-workout. The huge amount of positive feedback, reviews and customer re-purchases says it all, and for good reason. Wild Thing's outstanding formula moves beyond stimulants and performance enhancers; it sets a new standard for the entire pre-workout category by adding in new ingredients that give its users laser focus, major energy and long lasting endurance. Further the muscle gaining and muscle recovery nutrients in its formula really sum up the product's tagline "Activates Your Energy and Feeds Your Body". Wild Thing represents a huge shift in Pre-workout supplements that keep its users motivated and coming back for more.
NO. 2 Seismic Surge by Hard Rock Supplements
Hard Rock is known for making hardcore products that do what they say and with their Pre Workout, Seismic Surge, they stand by their word. Seismic comes in at  position #2 and is arguably the hardest hitting pre-workout this year, ideal for those who want a massive rush of energy, so strong that it should only be used by advanced users who have no sensitivities to stimulants. If you are one of the hardcores look no further as customer feedback and reviews suggest that Seismic Surge is earth shattering! 
NO. 3 Edge of Insanity by Psycho Pharma
Vital Alchemy Supplements has achieved the impossible with their innovative fat-burning formula Naturally Shredded, which contains natural ingredients that deliver results as potent as the best synthetic products on the market. This groundbreaking supplement provides a significant energy boost, suppresses appetite, and effectively sheds excess pounds, leaving you feeling great about your progress. While Vital Alchemy prioritizes natural ingredients in their formula, this product is not just for those seeking a gentle approach. Gym enthusiasts looking to achieve significant weight loss can rely on this supplement, which contains a powerful combination of 15 active ingredients that work synergistically to eliminate stubborn fat and sculpt a leaner physique.
NO. 4 Fit Throid by Vital Alchemy
Fit Throid secures the third place by offering a non-stimulant approach to accelerate metabolism, suppress appetite, and trigger thermogenesis. This effect is achieved through its innovative formula that simulates the thyroid hormone. While some customers use Fit Throid on its own, others choose to stack it with other stimulant-based fat burners for even greater results.
NO. 5 Corti Combat by Assault Labs
Corti Combat is a supplement that assists in reducing the levels of cortisol, a stress hormone that can lead to muscle loss and increased fat storage. It can be the key missing component to your fat loss objectives if you are following a rigorous diet and exercise routine but are still not achieving your desired outcomes. Customer reviews and repeat purchases demonstrate that users are experiencing positive results from using Corti Combat.
NO. 6 Lean Xtreme by Driven Sports Nutrition
Lean Xtreme has been a reliable choice for customers for several years, thanks to its highly effective, stimulant-free fat burning abilities. It has been reported to work particularly well in targeting stubborn belly fat. Year after year, customer loyalty to this supplement is demonstrated through consistent repurchases, securing its position at #6.
NO. 7 Far Beyond Driven by Psycho Pharma
Ranked as the seventh-best fat burner, Far Beyond Driven is a powerful supplement that revs up your metabolism, curbs your appetite, and boosts your energy levels for maximum intensity. With this product, you can achieve weight loss without sacrificing your hard-earned muscle mass, shred away unwanted fat without enduring hunger pains, and feel great throughout the process. Customers have reported improved moods, suppressed appetites, and elevated energy levels. Far Beyond Driven empowers you to conquer even the most stubborn body fat, making it a top choice for anyone seeking a potent fat-burning solution.
NO. 8 ThermoAmp by Iconic Formulations
ThermoAmp by Iconic Formulations has claimed the eighth position in the fat-burning category, providing a non-stimulant weight loss solution that helps you achieve your desired body without unwanted side effects. This formula incorporates three potent and patented ingredients, MitoBurn, CaloriBurn, and Forslean, that work together to create a thermogenic effect and burn stubborn fat. Users have reported increased sweating, reduced water retention, significant weight loss, and decreased appetite, resulting in improved body composition. ThermoAmp can be stacked with stimulant-based fat burners to enhance results. This product is an ideal choice for anyone seeking a non-stimulant weight loss solution that delivers noticeable results.
NO. 9 Arson by Blackstone Labs
Currently ranked ninth in the fat-burning category, Arson by Blackstone Labs is a potent supplement that delivers extreme energy and strength. This formula is a powerful combination of stimulants, mood enhancers, thermogenics, and lipolytic agents that work together to create an intense and long-lasting energy boost, improve focus, and burn fat quickly. Arson makes dieting feel easier than ever before. It is important to note that this fat burner is intended for individuals with high stimulant tolerances and should not be used by those who are sensitive to stimulants. Arson is a solid choice for anyone seeking a powerful fat-burning supplement to support their weight loss journey, and it proves through our customer re-buys and great feedback
NO. 10 Ultra DCP by EvoMuse
Ultra DCP ranks at number 10 in the fat-burning category and is widely regarded as the most researched, advanced, and complex non-stimulant fat burner currently available. With the new EvoMuse™ version, Ultra DCP has undergone significant improvements, including the addition of a new level of fat-burning power by inhibiting the expression of the FTO gene, which is strongly related to obesity. This formula consists of 12 potent ingredients that work together to provide a strong and effective weight loss solution without the use of stimulants. This supplement has received positive feedback from customers, who are satisfied with the product's performance. Ultra DCP is an excellent choice for anyone seeking a well-researched and innovative non-stimulant fat burner that can help you achieve your weight loss goals.