TOP 10 NATURAL ANABOLICS FOR 2023
In search of natural, herbal extracts that can invigorate your hormones and optimize muscle growth and recovery? Your search ends right here! Following a meticulous analysis of feedback and votes, we have curated the ultimate compilation of the finest natural anabolics for 2023. It is our utmost pride to reveal the Top 10 cutting-edge supplements in the realm of natural anabolics, thoughtfully crafted to empower you to push your limits, train longer, and achieve exceptional results in the gym.
How do we determine the Top 10?
First up, we looked at repeat sales. These supplements have won the hearts and muscle fibers of users who keep coming back for more, month after month. When customers vote with their wallets, you know it's a powerful endorsement.
Next, we delved into customer feedback, reading reviews and chatting with users to get an insider's perspective. Their rave reviews and positive feedback are a testament to the effectiveness of these products.
And finally, we looked to the pros – bodybuilders, athletes, and fitness models who have put these supplements to the test and documented their results. Our own Pro Support Team has also weighed in, sharing their own experience and expertise.
So, what are you waiting for? Check out the reviews on our site and see for yourself why these top 10 bulking supplements are taking the fitness world by storm!
NO. 1 Anafuse by Vital Labs
For the fourth consecutive year, Anafuse has maintained its position as the top natural anabolic supplement on the market, and it also holds a place in the Top 10 Bulking Supplements for the fourth year in a row. This achievement is remarkable as no other natural supplement has been able to achieve it. Anafuse's potent formula generates muscle-building effects without affecting your hormones and with minimal side effects, thanks to a blend of powerful natural anabolics and absorption enhancers. It has become one of the most frequently repurchased supplements ever.
NO. 2 Alpha Bulk by Olympus Labs
Olympus Labs has released a new supplement called Alpha Bulk that has taken the number 2 spot by surprise in the natural anabolics category for 2023. This innovative supplement delivers exceptional lean mass gains and simultaneous fat loss that surpasses anything else available on the market. The secret behind Alpha Bulk's potency is the industry's first powerhouse anabolic agent α-Cedrene, which has been scientifically proven to enhance skeletal muscle mass and strength while promoting fat loss. AlphaBulk is formulated with the new and groundbreaking Liquigel capsules, ensuring maximum benefits for users. The supplement has received excellent reviews from beta testers and new users, further solidifying its position in the natural anabolics category.
NO. 3 Colossal Muscle by Hard Rock Supplements
Rock Hard Supplements has introduced their latest natural anabolic, Colossal Muscle, featuring two highly effective ingredients that promise to deliver exciting results. The supplement contains 20-Hydroxyecdysone and Uzbekistan Ajuga Turkestanica, both of which have demonstrated significant increases in muscle mass and strength. Colossal Muscle is an excellent choice for those seeking to build muscle, enhance strength and endurance, and boost protein synthesis all at once. This powerful combination of ingredients makes Colossal Muscle a compelling option for anyone looking to take their fitness and performance to the next level.
NO. 4 AlphaBuild by Olympus Labs
AlphaBuild comes in at number 4 as the highly-anticipated second installment of the ALPHA series by Premium Olympus Labs. This cutting-edge supplement, known as ALPHABUILD, is meticulously crafted to break through the body's limitations in signaling molecules, unlocking the true potential for muscle growth. Olympus Labs proudly presents an industry-first scientific breakthrough, featuring a generous dosage of 600mg of the renowned anchor ingredient (-)-Epicatechin PhytoFUSETM, complemented by its lesser-known yet potent sibling, (+)-Epicatechin. This supplement improves muscle growth and recovery times and has proven to be a popular new natural anabolic among users!
NO. 5 AlphaRip by Olympus Labs

ALPHARIP is a versatile and robust formula engineered to promote both muscle growth and fat reduction. It achieves this by targeting various essential processes, such as countering the effects of Myostatin that restricts muscle growth, boosting mitochondrial functions for improved energy output and exercise capacity, and significantly improving insulin responsiveness. AlphaRip is crafted to optimize ingredients that previously struggled with efficient absorption in the body. Moreover, it amplifies the body's capacity for muscle development and boosts both muscle-building and fat-burning signals, aiding in the optimum reshaping of muscles.
NO. 6 Vector by Black Lion Research
In the past year, there has been a significant increase in interest in natural anabolics. While Vector dropped down a position, it still remains a popular choice among users, with its overall popularity continuing to grow, albeit not as rapidly as some other supplements. Vector distinguishes itself by incorporating three brand new natural anabolic ingredients. These powerful ingredients work in concert to regulate gene expression related to muscle hypertrophy, promoting lean muscle growth, increased strength, endurance, protein synthesis, and muscle recovery. By tapping into these cutting-edge ingredients, Vector offers a unique and effective solution for those looking to enhance their performance and achieve their fitness goals.
NO. 7 The Muscle Sculptor by Vital Alchemy
Vital Alchemy's The Muscle Sculptor has made a mark in the top 10 natural anabolics and fat burners for a variety of reasons. The supplement is a well-balanced formula that acts as both a potent fat burner and a fully-dosed natural anabolic. The Muscle Sculptor also includes natural anabolic compounds that promote muscle growth and hardening. Customers have reported significant increases in energy levels, muscle mass, and metabolism, making The Muscle Sculptor a popular choice among users. With its versatile benefits, The Muscle Sculptor stands out as an exceptional supplement that can help individuals achieve their fitness goals.
NO. 8 Youth GH by Vital Alchemy
Youth GH, the number 8 natural anabolic for 2023, is a game-changing supplement that helps you burn fat and build muscle while you sleep. This innovative supplement utilizes 11 well-researched ingredients to increase growth hormone production, which translates to increased energy, lean muscle growth, fat loss, muscle recovery, and improved mood. Customers have praised Youth GH for the deep sleep it provides and the noticeable energy boost they experience during their workouts the next day. By tapping into the latest in ingredient research, Youth GH offers a comprehensive solution to help individuals achieve their fitness goals while also improving their overall well-being.
NO. 9 Epi 2.0 by Vital Labs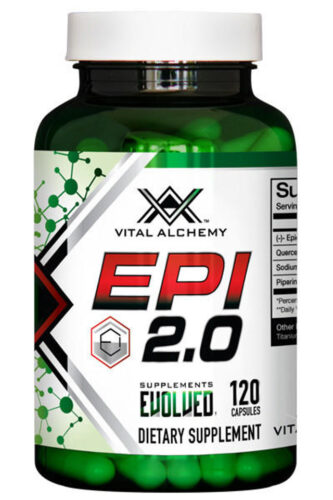 Epi 2.0 has seen a surge in popularity among natural athletes and women looking to tone up, allowing it to climb up a spot in the Top 10 for 2023. This innovative supplement takes a unique approach to muscle growth by inhibiting Myostatin, a growth factor protein that limits muscle growth. The key ingredient, Epicatechin, is specifically designed to reduce Myostatin levels, leading to increased muscle mass, endurance, recovery, and fat loss. To further enhance the effectiveness of Epicatechin, Epi 2.0 also includes a blend of additional ingredients, resulting in a supplement that has been hailed as the first true Myostatin inhibitor on the market. With its cutting-edge approach to muscle growth, it's no wonder that Epi 2.0 has gained such a strong following among those seeking to enhance their physique and performance.
NO. 10 Nano Genin by Assault Nano Series
Nano Genin is a natural anabolic that utilizes Laxogenin, a non-hormonal anabolic agent, which has been scientifically proven to enhance protein synthesis by up to 200%. To maximize its effectiveness, Nano Genin utilizes Nano Absorb Technology, a technology used in the pharmaceutical industry, to increase the bioavailability of Laxogenin by up to 600%. Users have reported significant increases in lean muscle mass, endurance, strength, and fat loss, making Nano Genin a popular choice among athletes and fitness enthusiasts.