For A Limited Time Only $19.95
DAA MAX
Looking for a way to boost testosterone levels 42%? According to a bio-medical study1 just 12 days of consistent use users saw a 42% of rise in free testosterone.
D-Aspartic acid is a natural way to effectively raise the body's natural testosterone levels.
DAA Max is pure capsulated D-Aspartic Acid supplement.
D-Aspartic Acid has been shown in laboratory tests to produce:
A 42% increase in Free Testosterone Levels after 12 days of consistent use
Increased amount of testosterone released in the blood
Increased Growth Hormone and Leutinizing Hormone production
Greater mitochondrial efficiency and enhanced oxygen-carrying blood flow
Increased nitric oxide (NO2, NO3) production, promoting fast recovery after workouts
Use with your PCT to boost natural testosterone levels back to normal
Use after as part of your PCT regiment to increase your test and better keep your gains
Increased testosterone levels lead to increased energy levels, increased strength, lean muscle mass gains, increased fat burning, and elevated sex drive.
D-Aspartic acid has also been suggested to promote normal GABA levels, and dopamine levels, acting as an anti-depressant.
It is recommended to take this product in cycles of up to 60 days on and 30 days off to avoid building up a tolerance.
DAA Max can be stacked with other natural testosterone boosters (that do not have D-Aspartic Acid) to elevate testosterone levels even further.
DAA Max can also be taken as a Post Cycle Therapy to raise natural testosterone levels after a cycle.
Source: BioMed Central – The role and molecular mechanism of D-aspartic acid in the release and synthesis of LH and testosterone in humans and rats1
*WARNING: NOT FOR USE BY INDIVIDUALS UNDER THE AGE OF 18 YEARS. DO NOT USE IF PREGNANT OR NURSING. Always consult a licensed practitioner prior to starting any diet and/or exercise program. Consult a physician or licensed qualified healthcare professional before using this product if you have, or have a family history of, heart disease, thyroid disease, diabetes, high blood pressure, depression or other psychiatric condition, glaucoma, difficulty in urinating, prostate enlargement, or seizure disorder, or if you are using a monoamine oxidase inhibitor (MAOI or any other drug or over-the-counter drug containing phenylopropanolamine (ingredients found in certain allergy, asthma, cough or cold, and weight control products).
*These statements have not been evaluated by the FDA. This product is not intended to treat, diagnose, cure or prevent any disease.
Fully Dosed & Powerful
A Cost Effective Way To Increase Test
D-Aspartic Acid
D-aspartic acid is a naturally occurring physiological amino acid occurring principally in the pituitary gland and testes and has a role in the regulation of the release and synthesis of LH and testosterone.
Review by Phil**
Test Booster
This stuff is awesome. After the first week I felt stronger and with more energy. Its a good price for the quality. Im gaining more definition now and im on my 3rd week. GREAT STUFF! highly reccommend [recommend]!
**Last Name Withheld to Protect Privacy
More Product Reviews
Supplement Facts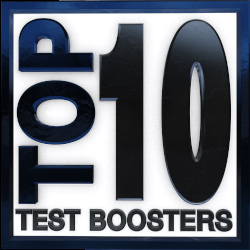 DAA MAX – Has been the industry's top seller for many years. It's repurchase rate is through the roof predominantly because customers report DAA MAX is a very effective test booster at a low price. Because of this record coupled with a very high percentage of positive reviews, DAA MAX has been the No.1 test booster sitting on top the Top 10 Testosterone Booster list since its inception.